A configurable dashboard prioritizes your airport's daily operations. Easily access permit creation, account management, and billing from a central location.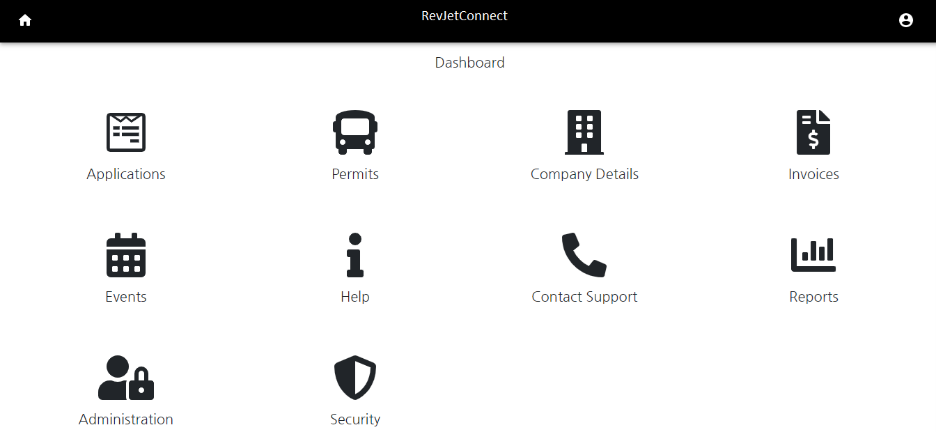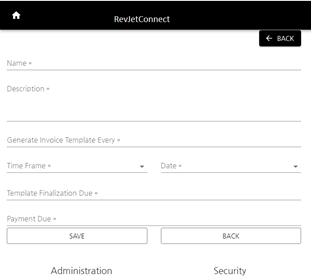 Automate Key Tasks with Configurable Business Rules
Stay on top of billing, insurance, inspections, and more with automated tasks, customizable notifications, and edit histories. Schedule invoices and set late fees, communicate with customers, vendors, and FBOs, and streamline your workflows. Enhance transparency and paper trail generation with automated and custom notices and an account-specific message board.
Track Revenue and Data with Ad Hoc and Canned Reports
Powerful, flexible reporting helps your team access and organize data. Identify trends, track revenue and profits, and monitor accounts and activity with a variety of pre-generated and custom reports.

RevJet brings airport management to the cutting edge with cloud-based software, configurable architecture, and powerful revenue tools.
Manage your airport from your browser and equip your staff with intuitive tools for their daily responsibilities. RevJet's high-utility, user-friendly interface makes it easy to manage tenants, collect revenue, track billing, and manage based aircraft.
Take the step today and sign up for your first month of RevJet Airport and Revenue Management.
Build your RevJet Package
RevJet offers you flexibility in choosing the tools you need for your airport. Our goal is to make quality, customized airport software solutions that are affordable and user friendly. Select a number of features to add to your RevJet package and estimate your price point.
Step One: Select Your Features
Choose which modules you would like to implement:
Easily manage leases and tenants with a suite of browser-based utilities. Lease Management features the following tools:
Account Management
Automated Invoicing
Online payment portal
Property Management Toolkit
Hangar Leasing, with listing manager and leasing agreements
Custom SKUs, including Fuel Flowage, Rent, Utilities, and gate fees
Tiedown and T-shade reservation system
Dynamic Reports
Streamline airport access and account holders with RevJet's cloud-based account directory. Equip your team with highly- configurable, user-friendly utilities, including the following:
Account management tools
Digitized application process
Customizable roles and permissions
Editable FBO Directory
Transponder and gate key logs
Account fees and billing
Event logs
Dynamic reports
Ground Vehicle Management
Track ground vehicles and monetize commercial passenger traffic with our vehicle permitting systesm. Ground Vehicle Management features the following utilities:
Online permit application
Configurable workflows for permitting, billing, and accounts
Automated billing and invoicing
Online payment portal for guests and account holders
Event log
Dynamic reports
Additionally, our team can assist you with implementing a camera-based license plate recognition system that automatically detects traffic and generates events.
Manage and analyze arrivals and departures and monetize Part 121/135 flights with RevJet's Flight Tracking Module. Our team will help you implement ADS-B transponders and integrate with Motion Information Systems' state-of-the-art ADS-B data interface.
Track aircraft position, call-sign, and type
Automatic event generation for aircraft arrivals and departures
Automatic revenue generation for Part 121/135 operations
Event log and automatic invoicing
Custom SKU's for aircraft activity type
Motion Information Systems also features geographic data visualization with a live traffic feed for ADS-B equipped aircraft.
ADS-B is the future of aircraft and traffic management. Our team will help you implement the technology and equip your staff with tools to engage the data.
Step Two: Choose Your Tier
At RevJet, we want your team to experience all the benefits RevJet has to offer. That's why we offer discounts and bonus features when you choose a bundled package.
Choose any two features:
Lease Management
Badge Management
Commercial Vehicle Permitting
Flight Tracking
Enjoy 10% off your monthly subscription cost.
Choose any three features:
Lease Management
Badge Management
Commercial Vehicle Permitting
Flight Tracking
Enjoy 15% off your monthly subscription cost.
All RevJet features included:
Lease Management
Badge Management
Commercial Vehicle Permitting
Flight Tracking
Enjoy 20% off your monthly subscription cost and additional utility—our airport security event log and inspection checklist module
Or, select individual features and modules a la carte. Our team is also happy to discuss customization with you.
To get a comprehensive cost estimate and personalized monthly subscription rate, reach out to us via our online form or by phone or email. Our team is always ready to schedule a full demonstration of your chosen features.
RevJet puts the tools in your hands, with user-friendly, powerful software accessible from your browser. Start collecting revenue from key airport operations, track activity and trends, and keep your finger on the pulse of aviation. Take the next step towards streamlined, affordable airport management, and schedule your no-obligation implementation assessment today.